Bee Seminar in Mettawa, Illinois - March 18, 2017

Bee Nutrition: The Next Step - A Cutting Edge Seminar on Bee Nutrition
A full-day seminar with four nationally acclaimed speakers intended for beekeepers and those interested in the environmental issues of saving honeybees. The speakers will cover their personal research and discoveries on how better nutrition of honeybees may help build their immunity to deadly diseases while improving the medicinal benefits of the honey the bees produce and consumers eat.
Saturday, March 18, 2017
WW. Grainger Corporate Offices
Mettawa, Illinois
What is the purpose of this seminar?
A seminar for beekeepers and gardeners interested in the environmental issues of saving bees…to discuss how better pollen and nectar nutrition, along with supplemental feed for bees, may help their immunity to deal with deadly diseases — while improving the medicinal benefits of honey the bees produce and consumers enjoy.
Who is the target audience for the seminar?
Beekeepers and Gardeners with a keen sense of sustainability and conservation.
Where will this seminar be held?
W.W. Grainger corporate headquarters in Lake Forest, (Mettawa) IL., located about 25 minutes north of O'Hare Airport. Their facility will allow attendees to avoid any weather conditions for the day, with break foods and lunch being served adjacent to the auditorium.
What is the agenda for the day?
8:00-9:00 am - Registration – fresh-brewed Starbucks coffee, tea with honey funnel cake, yogurt parfait and granola
9:00-9:15 am - Welcome and Seminar Opening
9:15-10:30 am - Dr. James Amrine – presentation
10:30-11:45 am - Dr. Gordon Wardell – presentation
12:00-1:00 pm - Lunch — served in auditorium vestibule ( 4 lunch options, including 1 vegetarian )
1:00- 2:15 pm - Mr. Jon Frank – presentation
2:15-3:30 pm - Mr. Dave Hackenberg -presentation
3:30 -4:00 pm - Break – fresh popped kettle corn with local honey and sea salt
4:00-5:00 pm - Speaker Panel to address attendee questions
5:00-5:15 pm - Seminar Closing
Nationally Reknowned Speakers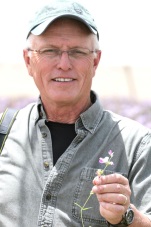 Dr. Gordon Wardell
Bee biologist and Director of Pollination Operations for Wonderful Orchards Company and President of the South Valley Bee Club in California. Gordon has been a professional apiculturist for over 30 years and has worked with bees on three continents. Gordy invented MegaBee, the honey bee nutritional supplement for pollen patties, developed from years of research in the area of Varroa mite control, honey bee nutrition, fire ant monitoring, and small-hive beetle. In addition, he has authored numerous scientific publications on honey bees.
A Fresh Look at Honey Bee Nutrition (Overview)
What Do Bees Eat and Who Is Doing the Eating?
How Important is Bee Nutrition in the Colony Today?
What Can We Do to Help Our Bees Nutritionally?
Dr. James (Jim) Amrine
Professor Emeritus, West Virginia Univ., Entomology Program, Division of Plant and Soil Sciences at the Davis College. Specialty in Eriophyoidea, Apiculture, Forensic Entomology, Biological Control of Multiflora Rose. He was the first to do extensive research on the effect certain essential oils have on bee behavior. His research found that several essential oils improved the health of the honey bee and reversed the symptoms of PMS. Especially useful were wintergreen, spearmint, patchouli, penny royal, tea tree and melaleuca oils. Jim is the inventor and founder of the Honey B Healthy product-line used by most beekeepers.
Using Protein & the Essential Oils with Honey Bees (Overview)
What Do Bees Eat and Who Is Doing the Eating?
How Imporant Is Bee Nutrition in the Colony Today?
What Can We Do to Help Our Bees Nutritionally?
Jon Frank
Jon is the owner of International Ag Labs, based in the solidly Ag community of southern Minnesota. He is a soil consultant with over 14 years of experience in his field. He is the founder of High Brix Gardens, the market garden/backyard garden division of IAL. Jon is fascinated with the correlation between minerally rich soil and nutrient dense food and its subsequent impact on human health. Jon has personally created all of IAL's products in the last 8 years, and has seen particular success in crafting fertility programs that significantly boost yield and quality. Jon is currently developing a universal standard of nutrient density with the help of growers around the country. Jon and his wife Rebecca have 5 children and live in rural Minnesota within shouting distance of Iowa.
Soil, Bossoms, and Bees: Lessons from a Soil Doctor (Overview)
Is There a Nutritional Correlation Among Soil, Plants, and Blossoms?
How Can You Grow a Flower Garden Just for the Bees?
How to Measure Your Progress with Plant Nutrition.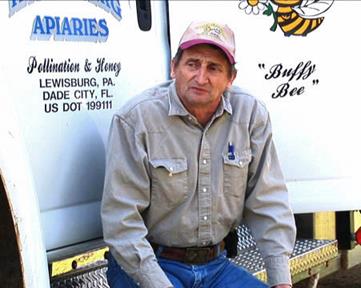 David Hackenberg
David began keeping bees as an FFA project in 1962 at Mifflinburg Area High School. By the time he had graduated high school, he had already started his own business maintaining several hundred hives. Over time he built his business up to 3000 bee colonies as one of the largest east-coast beekeepers but in 2006 he lost 80% of the hives due to CCD (Colony Collapse Disorder. Mr. Hackenberg received the Presidents' Award from the American Beekeeping Federation in 2008 for bringing the plight of the honey bee to light in the world. Dave presently holds the position of Chairman of the Honey Bee Health Advisory Board. Dave is considered an expert and thought leader on bee heath.
Feed Bees Pollen Substitutes and Other Additives -- WHY?
What Has Changed in the Bees Environment?
As Beekeepers, What Can We Do About These Issues?
How Hackenberg Apiaries Feeds Our Bees and Make Our Own Pollen Substitute Patties.
More information
http://www.mettawabeeseminar.com
Register for the class
https://www.eventbrite.com/e/bee-nutritionthe-next-step-tickets-27351046717?utm_term=eventurl_text
Pre-Order the DVD's
Click here to pre-order now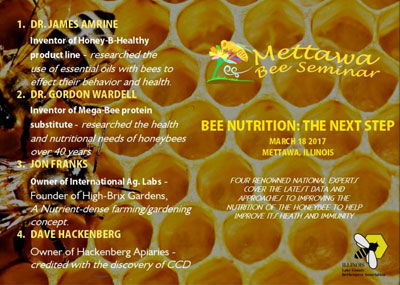 Video will be shipped 30-45 days after the seminar event has occurred to allow enough time for a proper editing of the DVD.
Price prior to seminar $97.00
Price after seminar $112.00
Foliar Plant Nutrition DVD Set
Foliar Plant Nutrition DVD Set is now available in our store.
If you attended the class you will receive a discount if you call our office at 507-235-6909.
Events Archive